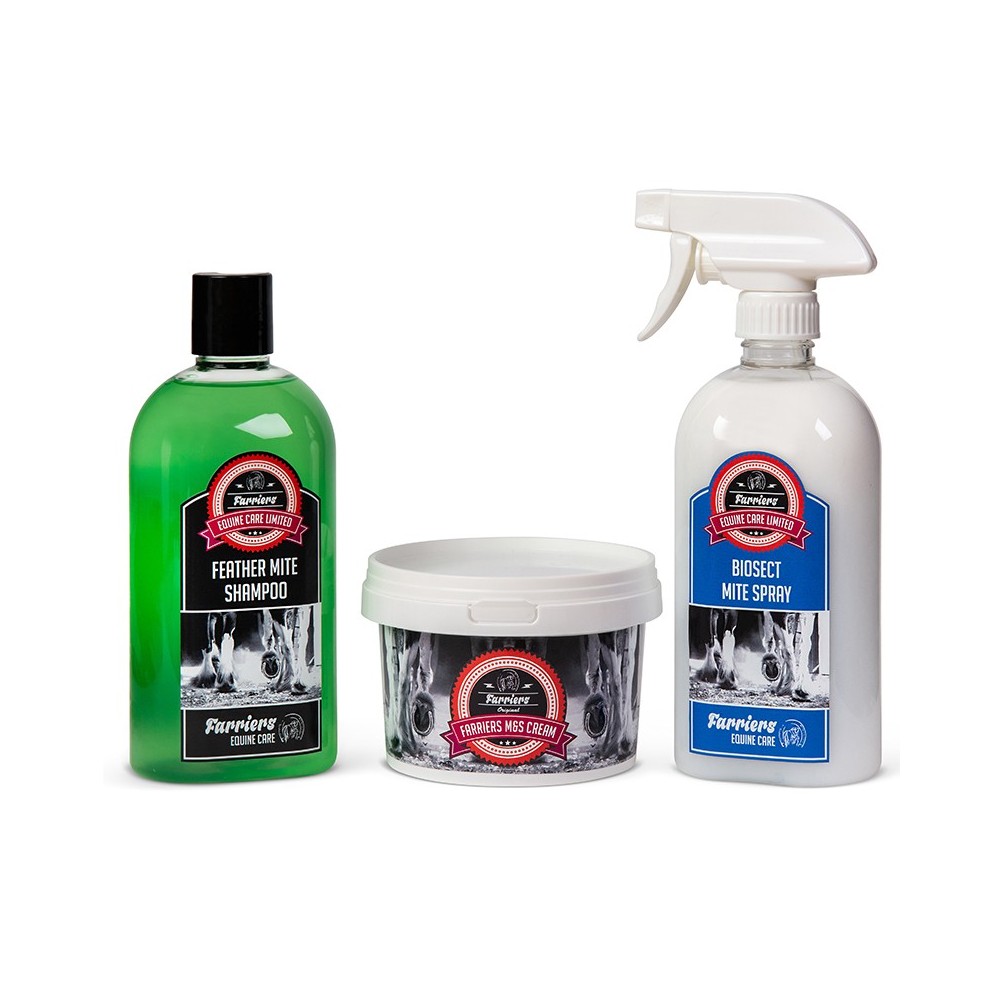  
M&S Mite Treatment (Triple Pack)
Does your horse stamp, bite his lower legs? Does your horse have scabs behind their knees/hock area or lower leg??
Our new Triple Pack contains everything you need to treat Mallenders & Sallenders & Feather Mites, by purchasing all 3 items together you will be saving 10% of the regular retail price.  THIS ITEM MAY BE SHIPPED FROM AMAZON FULFILMENT CENTRE.
Mallenders & Sallenders is generally found behind the knee joint and in some cases inside the hock joint, it appears as a scabby crust which can crack and become sore, our cream is ideal at dissipating these scabs leaving pink skin underneath, apply a small amount  daily gently and leave, after a couple of days gently brush away any excess scabs,  this procedure should become part of your grooming regime as M&S is an ongoing ailment in some cases. Feather Mites are macroscopic parasites living in the skin under the feather area, our shampoo & spray contain an active ingredient that will paralyse and kill the mite, make sure both products come into contact with the skin, the shampoo is great for heavily feathered horses and will clean at the same time, massage well into the skin from the knee downwards and leave for at least 5 minutes then rinse, the spray works in the same way but does not need to be rinsed off, 
We recommend shampooing first then apply your M&S cream (once or twice daily with the cream) , then a week later use the spray making sure it gets to the skin, repeat a week later to catch any unhatched eggs, then a week later then monthly and 3 monthly. 
Customers who bought this product also bought: