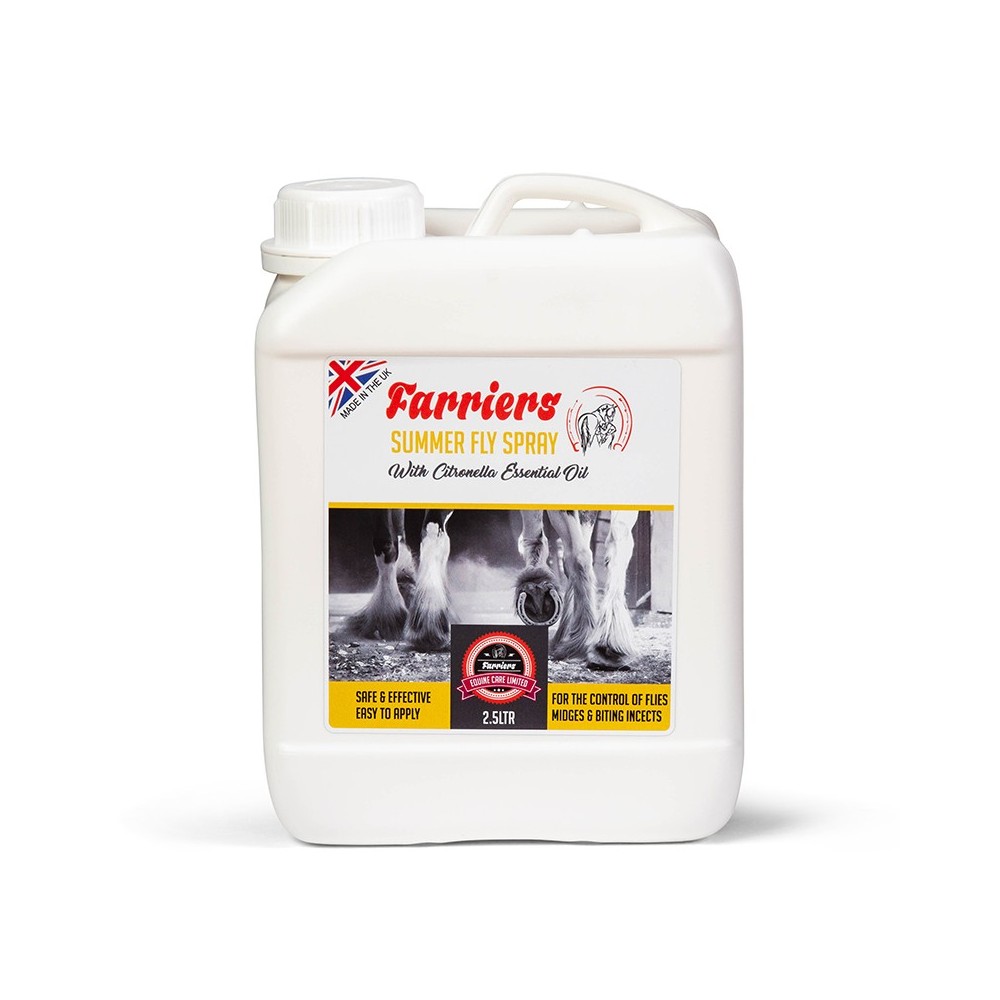  
Farriers Citronella Fly Spray 5 Litres (2 x 2.5 ltr bottles)
When working around horses, there is nothing worse than pesky flies and biting insects annoying you and your horse. Farriers Citronella fly spray has been developed by a working Farrier with over 40 years of shoeing experience and incorporates three of the best essential oils for repelling these nasty critters. Citronella, Lavender & Cedar wood essential oils have been blended into our formulae. This fly spray is water based and has no solvent based chemicals to harm your horses skin. Can be sprayed directly onto your horse or onto a brush or cloth for hard to spray horses. Long lasting and available in cost effective sizes.
This twin pack contains 2 x 2.5 litre bottles of our Fly Spray at great savings over single bottle prices. Ideal for Livery and Eventing Yards or owners with several horses. We also make a fantastic Fly Cream that is great for horses you can't spray and for use around the sheath, muzzle and eyes. 
Customers who bought this product also bought:
Farriers Stop Itch contains Citronella Essential Oil & Benzyl Benzoate to help reduce rubbing of mane & tails during the Midge season. Farriers Stop Itch maintains healthy skin in horses & donkeys. Start applying before the Midge season and continue right through the summer months. 

Are you looking for a more natural alternative to Pig Oil & Sulphur for conditioning Feathers and treating Mites? Farriers Equine Care produce a 100% natural plant based conditioning oil that will remove tangles and leave feathers silky soft and supple. We also add Peppermint Essential Oil to help reduce problems with mites. This handy 5 litre size is ideal for Breeders and people in the Showing World.