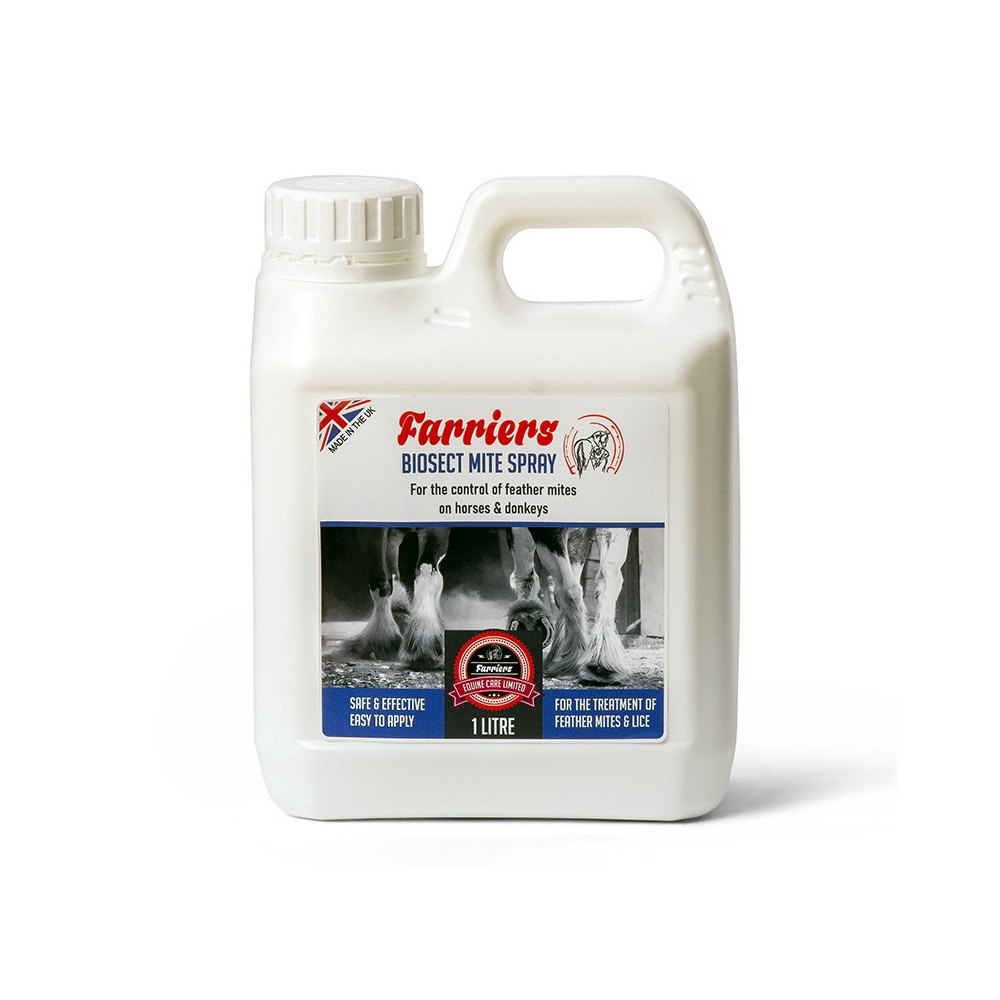  
Farriers Biosect Mite Treatment (1 Litre)
Biosect Mite Treatment is now available in this handy 1 litre refill size. Can be applied with a hand sprayer or sponged onto the horses legs. Also available in 500ml and 1 litre combo pack. See other listings. Also available as a Mite Shampoo.
Farriers Biosect feather mite spray is ideal for those stubborn parasites that live on your horses legs. Made using pyrethrums, Biosect works by paralyzing the mites rendering them unable to move and they quickly die. you should see positive results within 24 hours. For bad infestations we recommend removing the feathers of heavy horses such as Cobs, Shires and Fell ponies. Biosect is sprayed directly onto the affected areas making sure the solution gets right down to the skin where the mites live. Wet the area well. Always use protective gloves for this task. If you are not comfortable clipping your horses feathers off, make sure you soak the legs well and rub the solution well into the hair.
This procedure need to be repeated 10 days after initial treatment to ensure any newly hatched mites are treated. Biosect can be used as a preventative measure also. 
Customers who bought this product also bought:
-£2.40
Regular price
£23.25
Price
£20.85
Are you looking for a more natural alternative to Pig Oil & Sulphur for conditioning Feathers and treating Mites? Farriers Equine Care produce a 100% natural plant based conditioning oil that will remove tangles and leave feathers silky soft and supple. We also add Peppermint Essential Oil to help reduce problems with mites.
BUY BOTH TOGETHER AND SAVE £2.85
Farriers Original M&S Cream in 500ml size along with a 500ml spray bottle of Farriers Biosect Mite Spray. A must have combination for any one owning a heavy horse with feathers. These products are completely compatible with each other and can be used at the same time. Made using 100% natural ingredients and pure essential oils. Farriers Original M&S Cream is antibacterial, anti fungal and antiseptic.