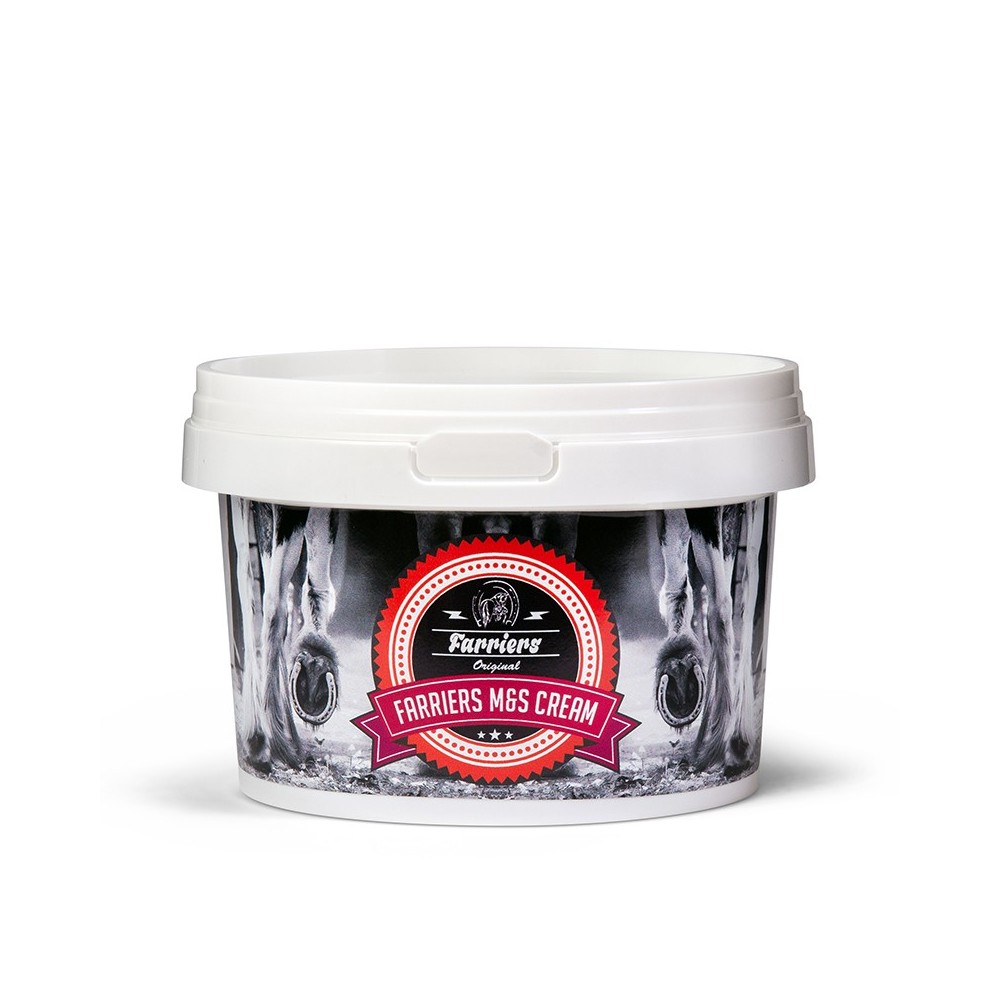  
Farriers Original M&S Cream (500ml)
 This topical cream is an effective anti fungal, antiseptic and antibacterial barrier cream intended for use on horses and donkeys with Mallenders & Sallenders. Made from 100% natural ingredients and pure essential oils. This highly water repellent cream provides a protective barrier against the environment. The cream helps support the natural healing process of cracks, sores, callused skin, fixed scabs, superficial wounds and helps soothe itchy, dry skin. Keeping the skin supple and in good skin condition, is necessary for healthy hair regrowth. Farriers Original M&S Cream is economical and easy to use and the long lasting formula stands up to all weathers. It does not melt in heat or wash off in rain. Picture is what typical Mallenders & Sallenders looks like, this is behind the knee joint.
The origins of Farriers Original M&S Cream can be traced back to 1905 when Arty Baker a Farrier from Leicestershire made the cream in his Fathers Forge. This recipe was handed to me in 1973 when I was an apprentice Farrier. Our Company now produces this cream to the very high standards originally set in 1905.
Directions for use:
This cream should be applied twice a day for the first three days and the reduce its use to once a day for a further seven days. If used on joint areas such as the back of the knee or front of the hock, the cream will produce a flexible protective shield against dirt and water.
No need to pick the scabs off the cream will dissolve these naturally then gently brush or comb out of the hair.
Use routinely for maximum effect.
INGREDIENTS: Cocos nucifera (Coconut) Oil, Barbadensis Leaf Extract, Theobroma cacao (Cocoa) Seed Butter, Prunus amygdalus dulcis (Sweet Almond) Oil, Simmondsia chinensis (Jojoba) Seed Oil, Cera alba, Juniperus virginiana Oil, Lavandula angustifolia (Lavender) Flower Oil, Glycerin, Zinc Oxide
Customers who bought this product also bought: