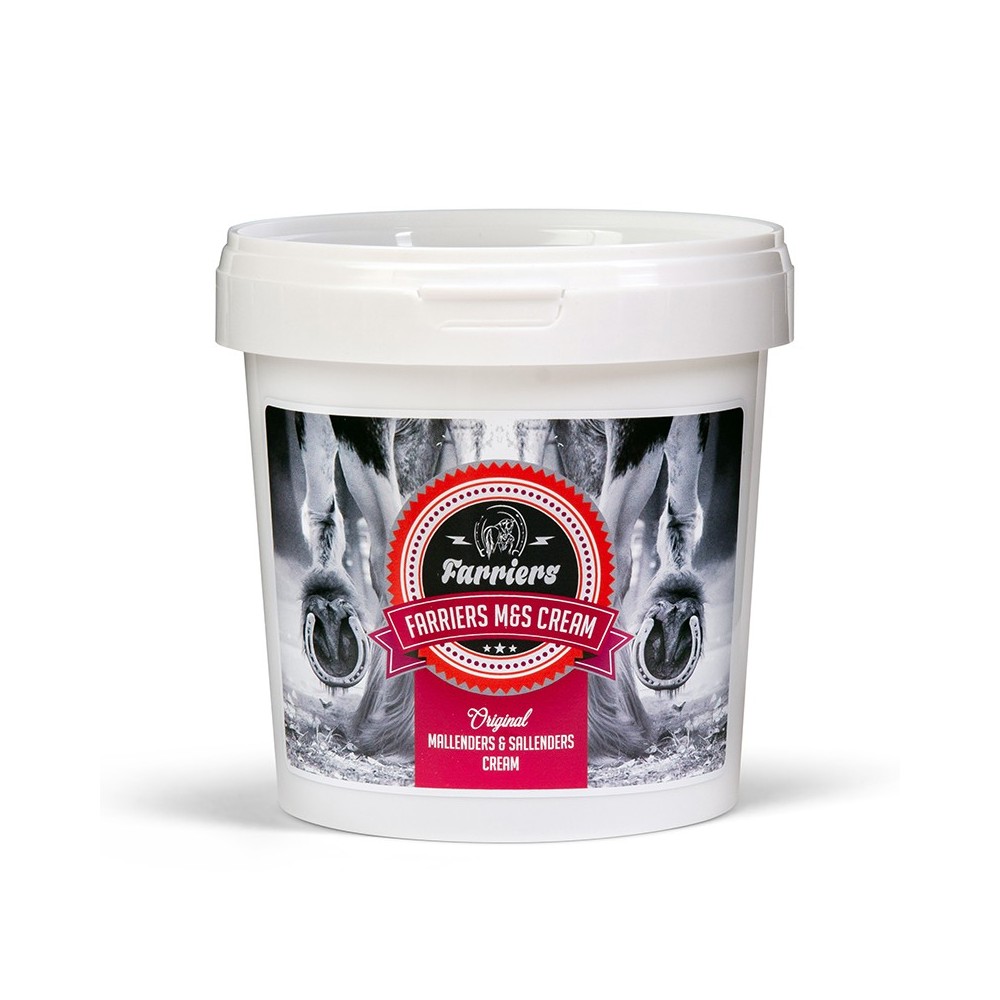  
Farriers Original M&S Cream (1000ml)
Farriers Original M&S Cream has been used since 1905. This topical cream is an effective anti fungal, antiseptic and antibacterial barrier cream intended for use on horses and donkeys. Made from 100% natural ingredients and pure essential oils. This highly water repellent cream provides a protective barrier against the environment. The cream helps support the natural healing process of cracks, sores, callused skin, fixed scabs, superficial wounds and helps soothe itchy, dry skin. Keeping the skin supple and in good skin condition, is necessary for healthy hair regrowth. Farriers Original M&S Cream is economical and easy to use and the long lasting formula stands up to all weathers. It does not melt in heat or wash off in rain.
The origins of Farriers Original M&S Cream can be traced back to 1905 when Arty Baker a Farrier from Leicestershire made the cream in his Fathers Forge. This recipe was handed to me in 1973 when I was an apprentice Farrier. Our Company now produces this cream to the very high standards originally set in 1905.
Directions for use:
This cream should be applied twice a day for the first three days and the reduce its use to once a day for a further seven days. If used on joint areas such as the back of the knee or front of the hock, the cream will produce a flexible protective shield against dirt and water.
We offer a 100% money back guarantee.
INGREDIENTS: Cocos nucifera (Coconut) Oil, Barbadensis Leaf Extract, Theobroma cacao (Cocoa) Seed Butter, Prunus amygdalus dulcis (Sweet Almond) Oil, Simmondsia chinensis (Jojoba) Seed Oil, Cera alba, Juniperus virginiana Oil, Lavandula angustifolia (Lavender) Flower Oil, Glycerin, Zinc Oxide
Customers who bought this product also bought:
Farriers feather Mite Shampoo is the latest product in our range of Mite Treatments. This product contains the same active ingredients as our Biosect Mite Spray. This shampoo can be used as often as needed to ensure Feather Mites are kept at bay. This product is ideal for use along side our Biosect Spray and Mite Cream.
Farriers Cracked Heel Cream contains three pure essential oils known for their anti-bacterial, anti-fungal and antiseptic properties. Made from natural emollients specifically chosen to prevent and treat cracked heels . This cream softens the scabs and promotes healthy skin growth. Incorporated into this cream is a barrier ingredient to help keep the affected area dry. Can also be used to help prevent mud attaching to the lower legs in boggy, wet conditions. 
Farriers Shire Oil is now available in 10 litre sizes. Conveniently packaged in 2 x 5 litre jugs for ease of handling. This natural alternative to pig oil and sulphur is made from 100% plant extracts and contains peppermint essential oil to help deter feather mites. This product is easy to use and smells great too.