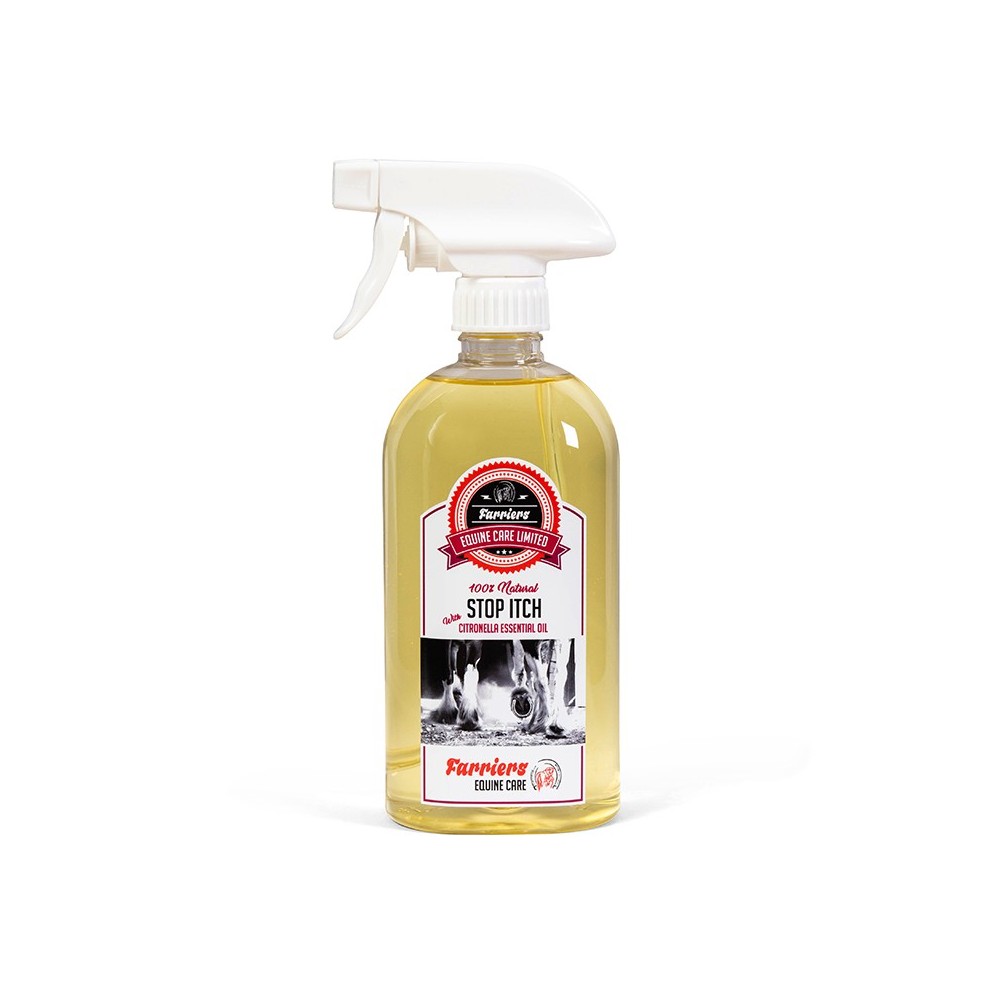  
Farriers Stop Itch - Mane & Tail Spray (500ml)
Farriers Stop Itch contains Citronella Essential Oil & Benzyl Benzoate to help reduce rubbing of mane & tails during the Midge season. Farriers Stop Itch maintains healthy skin in horses & donkeys. Start applying before the Midge season and continue right through the summer months. 

Farriers Stop Itch contains active ingredients known to repel Midges and biting insects plus soothe any bites to help stop the rubbing.. Ideal for use along the ridge of the mane and the dock of the tail. With the inclusion of Citronella essential oil, this is the ideal product for the summer season. This unique formulae has been tried and trusted and has proven to be one of the most effective preventatives and treatments for horses and donkeys. Early detection and treatment is a key factor in combating this complaint.
Directions:
Apply Stop Itch to all affected areas with fingers or a soft cloth as soon as any problems occur and for the remainder of the season (March to September). To begin with, you should use 75ml twice a day, then reduce to once a day and then to 3-4 times a week as the irritation lessens. You should ensure that all affected areas are kept clean by shampooing and rinsing well at least once a week. After shampooing or exercise, you should reapply Stop Itch to ensure adequate protection. 
If your horse is liable to seasonal problems, you should apply once in early spring before the problems occur. 
Cautions
For external veterinary use only.
Protective vinyl or rubber gloves should be worn.
Avoid contact with eyes - if contact should occur rinse immediately with plenty of water.
Harmful if swallowed - do not induce vomiting, seek urgent medical attention showing product label.
Dispose of empty packaging and any remaining product as household waste - do not recycle used containers.
Customers who bought this product also bought: