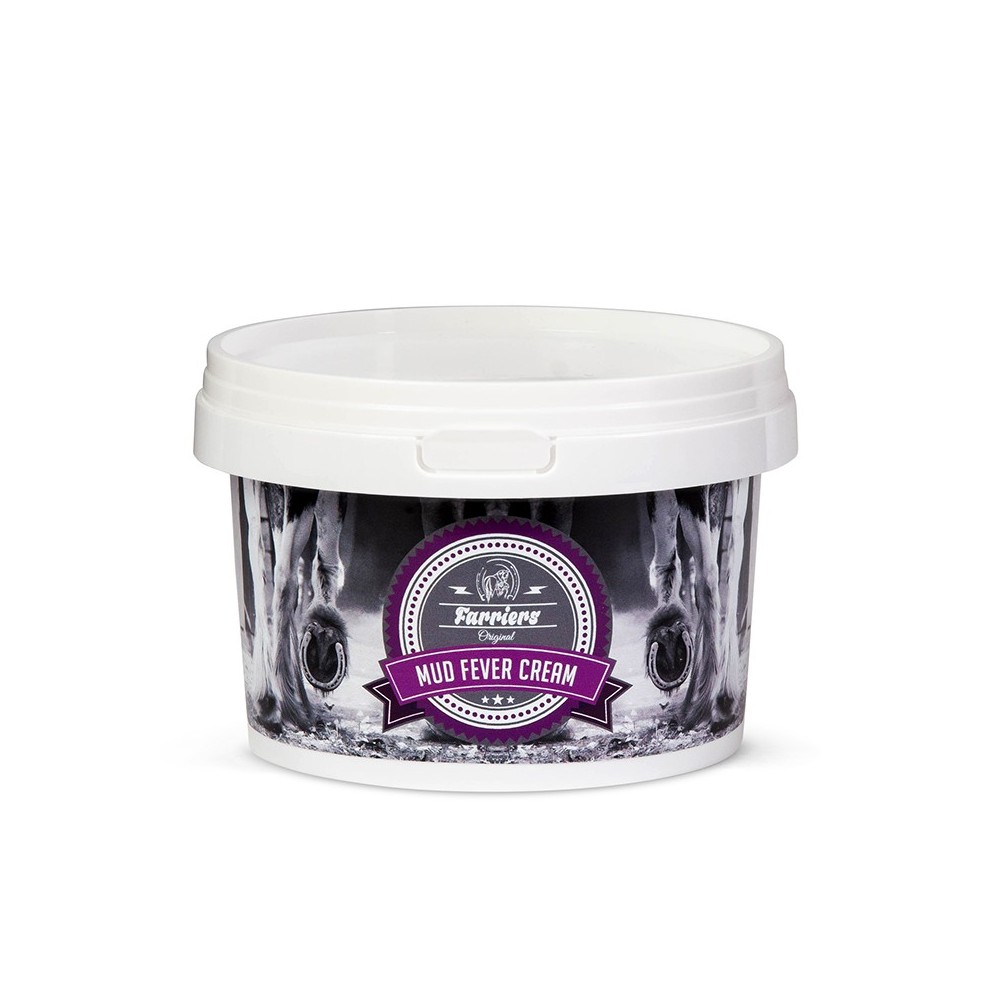  
Farriers Cracked Heel Cream (500ml)
Farriers Cracked Heel Cream contains three pure essential oils known for their anti-bacterial, anti-fungal and antiseptic properties. Made from natural emollients specifically chosen to prevent and treat cracked heels . This cream softens the scabs and promotes healthy skin growth. Incorporated into this cream is a barrier ingredient to help keep the affected area dry. Can also be used to help prevent mud attaching to the lower legs in boggy, wet conditions. 
Cracked Heels is not a single disease but can be seen in differing forms. It occurs especially in warm, wet weather, and is associated with a number of causes. It is certainly not limited to horses that are paddling knee deep in mud! Cracked Heels can range from a mild skin irritation to very painful infected sores, and can in some cases cause significant swelling with severe lameness. The condition affects the lower limb, most commonly the back of the pastern. It starts off as matted hair with dry crusts, caused by the inflamed skin weeping. When the same condition occurs on the upper body it is referred to as "rain scald"
The bacterium Dermatophilus congolensis causes cracked heels and under normal circumstances this bacterium lives in soil as spores and can survive from year to year. These spores become activated by wet weather and this is why we see the condition when the ground is wet. 
This bacterium cannot invade healthy skin. In the winter the rain and mud soften the skin, constant wetting and drying of the legs causes the skin in this area to chap, and then the bacteria can enter. Indeed anything which breaks the skin such as a small cut or wound can allow the bacteria to invade. For this reason muddy conditions are not always necessary for cracked heels to occur. 
Some horses seem more prone than others and this is because their skin is a less efficient barrier to infection. For example, horses with white and/or hairless pasterns appear to suffer more and horses with very hairy legs may suffer less (as their skin is a bit more protected). If a horse is suffering from another form of infection such as chorioptic mange or ringworm, the skin can become damaged and this allows a secondary infection to occur. It is important then to identify and treat the primary cause as neither mange nor ringworm will be cured by using antibiotics.
The diagnosis of cracked heels is usually straight forward and can be made by identifying the matted hair, crusty scabs and exudate on a horse's leg. The treatment of this condition is unfortunately not always as simple! The importance of regular inspection of the horse's legs to catch the condition early cannot be stressed enough, and as always, prevention is much better than cure.
INGREDIENTS: 
Cocos nucifera (Coconut) Oil, Barbadensis Leaf Extract, Theobroma cacao (Cocoa) Seed Butter, Prunus amygdalus dulcis (Sweet Almond) Oil, Simmondsia chinensis (Jojoba) Seed Oil, Cera alba, 
Lavandula angustifolia (Lavender) Flower Oil, 

Citrus medica limonum (Lemon) Peel Oil, Melaleuca alternifolia (Tea Tree) Leaf Oil, 

Glycerin, 
Customers who bought this product also bought: